All About Skin Tones and Using Copic Markers
How much do you love coloring people?! I know I love to color up cute little characters. So I decided to do a post All About Skin Tones and Using Copic Markers. Awesome, right?
I know it gets overwhelming when you see 350+ marker colors and have no idea where to start. There's seriously endless possibilities for coloring skin tones but I'm going to share what works perfect for me! To do all of these Skin Tones I'm using the same colors — give or take one. It's all about how much ink you lay down of certain colors.
Copic Skin Color Combos
All 3 of these images are using the same color for their cheeks, R30 and R32 an alternate combo that I also use is R20 and R22.
Light Skin –  I'm using E11, E00, E000, E0000 and a touch of E13 for shadows. The E00 and E000 are the colors mostly used.
Medium Skin – I use E13, E11, E00 and E000. The colors used most are E11 and E00.
Dark Skin – E25, E13, E11 and E00. The colors mostly used are E13 and E11.
Shadows
Do you remember my post — Stop trying to find the light source! Well, I'm going back to that same rule. If you are a beginner Copic user or even coloring with any medium, really — We all just get lost in the whole, 'Where is the light coming from'. So, technically there's light all around us. Unless your coloring a night scene or something that specifically calls for a light direction, like a flashlight or lamp you really shouldn't worry about any light direction (as a beginner).
So, instead ask yourself 'Where do the shadows make sense in this image?'
The shadowed areas would be…
Around the hairline (where the hair is falling around her face).
On the right side of the nose because of the angle her nose is.
A little under the lip.
On the neck just under the chin area.
And the insides on the arm.
On the backside of her hand where her wrist is bending.
In the fold of her arm where her arm is bent.
This is a great image to practice those Color Combos. You can even write on the back of these little 4×4 cards and create a little keyring of your favorite Hair and Skin Color Combos. I printed my image at 3.4 inches tall on my Copic Xpress it Paper.
  You could download her FREE from My Creative Library!
My Creative Library
Download my FREE Digi-Stamps and Papers!
Join My Creative Library for unlimited access!
Please know by signing up for My Creative Library you are also agreeing to be apart of my mailing list; where you will be sent my bi-weekly newsletters, free digi stamps and special offers on my online coloring classes. Please see my Privacy Policy for full details.
Looking some Copic Skin Tutorials with step by step photos? Check out these..
If you're looking for more step by step video instructions — I also have a Hair and Skin Online Class where you can watch the videos over and over and pause whenever you need to. If you join any of my Online classes you'll have lifetime access to the course.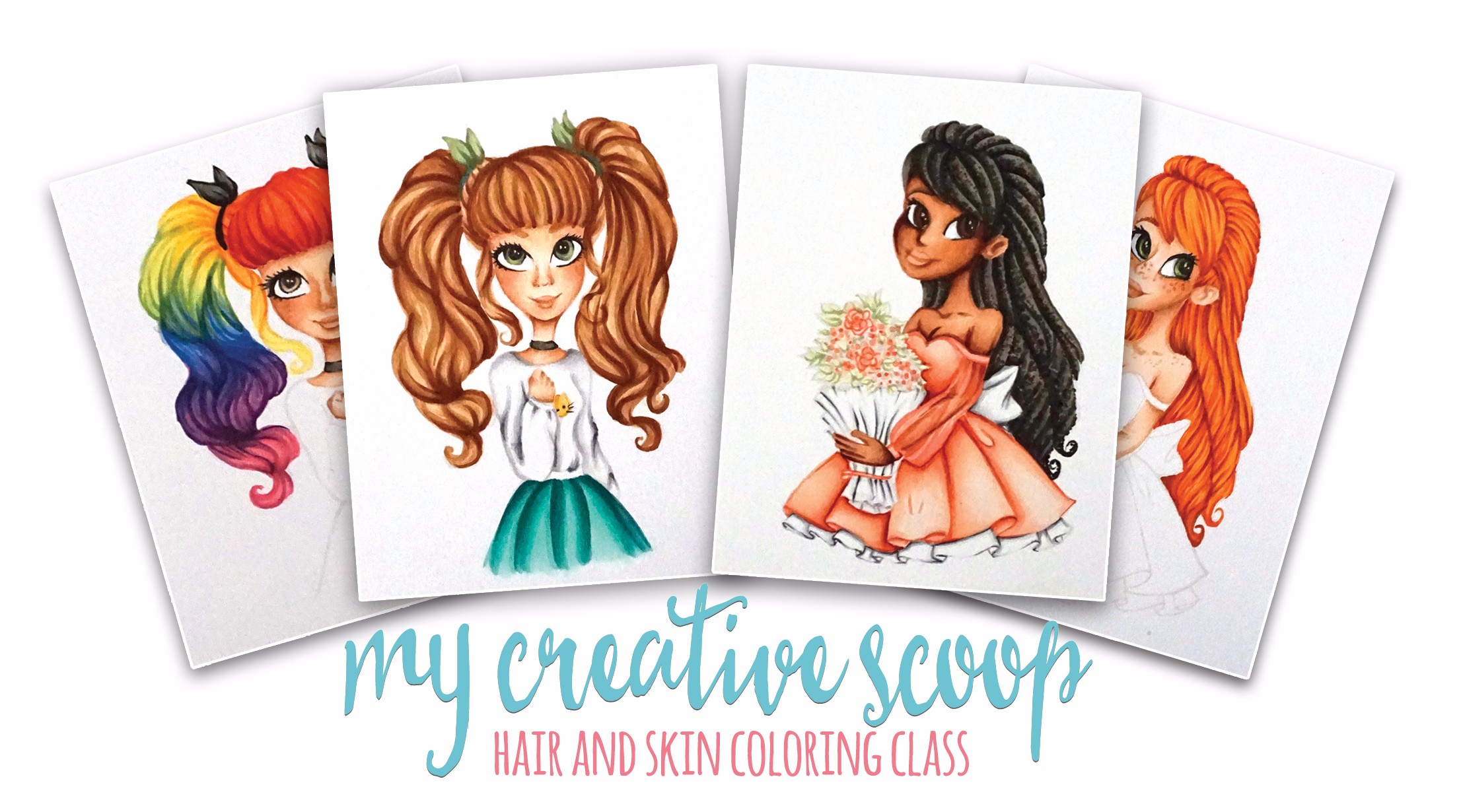 Pin the image below so you can always find your way back to this page!
Linking up: Crafting with an Attitude • Cute Card Thursday • Craft a holics • Crafty Gals Challenge • Creative Moments • Inspiration Destination • Pause Dream Enjoy • Simon Says Stamp Wednesday • Crafty Addicts • Crafts Galore Encore • Love to Craft • Through the Craftroom door • Crafting from the Heart • The Corrosive Challenge • Crafting with Friends •